A Dare to be Different rooftop tent
Do you want to go on a camping holiday soon, but is a caravan not for you? You don't like putting together a complicated tent? Then a rooftop tent is something for you. Save time and space in your car with the roof tents of Dare to be Different.
Wide range of roof tents
At Dare to be Different Outdoor, we have a wide range of rooftop tents. Whether you want to go camping with your partner, family or (grand)children, we have the tent on your car roof to suit everyone's camping needs.
Do you want to buy a smaller roof tent for you and your partner? With us you have the choice between the roof tent 140S Light Weight, the roof tent 140S or the roof tent 140L. Prefer something bigger? Choose the roof tent 180L or the roof tent 220XL. This spacious roof tent has a large sleeping area and is therefore suitable for four people. We also offer the hard shell roof tent with a hard top made of ABS and an aerodynamic shape.

Buy rooftop tent
Do you already know which roof tent you want to buy for your camping holiday? Or do you still have questions about which roof tent is best for your situation? The Dare to be Different rooftop tents are for sale at official Dare to be Different points of sale in camping gear. They are ready for you.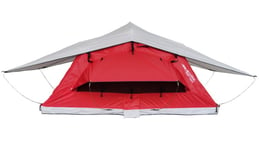 Sometimes you want to travel 'light' and less heavily packed. In that case, this 2 person rooftop tent is our lightest tent in our range and weighs only 48 kg.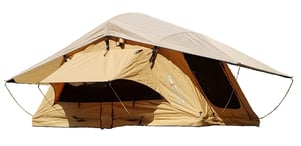 The 140S is our 2 person standard weight roof tent that offers an all round view. The wide side windows offer a very wide field of vision and provide plenty of ventilation on hot days.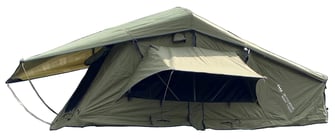 The 140L is our 2 person rooftop tent with a 100% dry entrance. This tent offers a canopy that not only allows you to climb up the ladder dry, but also gives you the option of expanding the tent with a large under-seat tent.

For the adventurer who wants even more view or ventilation we offer the Deluxe Series. In addition to the standard windows, these Deluxe tents are equipped with no less than 3 roof windows and 2 extra PVC windows above the entrance.
The 220XL is our largest family roof tent in our range. This size tent offers space for 4 adults, the mattress is no less than 220 cm wide x 230 cm long.

So you can sleep in the width or length, plenty of space.
The Miles Starling is unique in that the wide doors are placed diagonally, which means that we have been able to create a wonderfully large panoramic window at both the foot and head end.