Camping and roof tent accessories
During your camping holiday, you want to enjoy everything nature has to offer as much as possible. Different camping accessories can improve your experience. Different camping accessories offer more comfort or just more space during your holiday. Dare to be Different has thought about all the accessories.
Thoughtful camping accessories
Dare to be Different likes to think about new possibilities and solutions for camping enthusiasts. So we have come up with a number of handy camping accessories to improve your camping experience.

For example, meet our insulating inner tent, ideal for cold nights. Or our Anti-theft kit. With the sliding wall, you can create a wind-free, dry or shady area around your car in no time at all. Do you need more space than the roof tent offers? Then you can enlarge it with an under tent.

Also the luggage hammock, under mattresses, inner tent heavens and the so-called zitterik will considerably increase your comfort during your camping holiday.

Are you planning to buy a Dare to be Different Outdoor rooftop tent? If you are at a point of sale, also take a look at the smart and handy camping accessories we have come up with. You will immediately experience the difference. You can also find chuckboxes and awnings of our brand there.
Need to buy accessories for your rooftop tent?
Do you want to know more about the different camping accessories you can buy from us? All our products are for sale at various shops and dealers in camping accessories throughout the country. They are ready and waiting for you.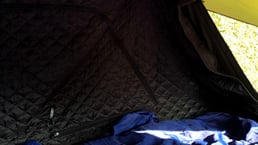 Winter camping, totally hip and especially fun to do! Or in spring, when the ground is still frozen and the sun slowly evaporates the mist.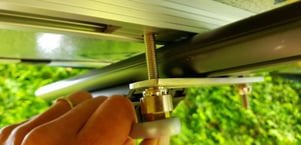 A roof tent is of course an expensive possession and customers leave the roof tent mounted on the car roof more and more often, even when they are not leaving. To slow down unauthorised disassembly, there are several systems on the market.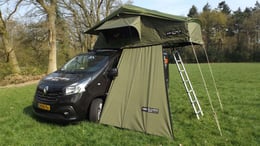 With the sliding wall, you can create a wind-free, dry or shady area under the roof tent in no time at all. The sliding wall can be placed on the left or right.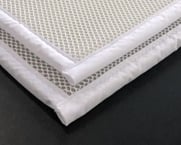 The unique 3D structure of our under mattresses ensures a healthy and pleasant sleeping environment in your rooftop tent.
With the design of the luggage hammock, we have succeeded in creating simple and quick storage space in or under a rooftop tent. In the ridge of the roof tent it is easy to put clothes or a book in. Under the roof tent, the hammock is ideal for keeping shoes dry and off the ground.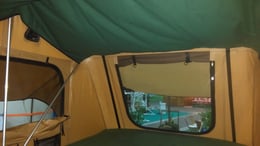 For internal insulation in the rooftop tents, we have a simple but adequate solution - the "inside sky inner tent".