We ended last month back in Europe where our travels continued. Compared to all our adventures and experiences from Morocco, the month March wasn't the most spectacular. We wouldn't say it felt boring, but it felt normal again. We left the African chaos, almost forgot the endless price negotiations with the street vendors and started missing the donkeys already. But back in Europe it also felt relaxed again. After a few city visits in Spain, we crossed France to end up in Switzerland where we spent the final half of the month. A winter with little snow made it possible for us to test Jack and our rooftop tent high up in the mountain between the patches of snow that were left for us.
Finish unfinished business in Spain
As soon as we came off the ferry from Ceuta, it felt like home as we spent already more than two months in Spain. Therefore, our plan wasn't to stay in Spain for another month, but to drive at a decent pace to our next big goal: Switzerland. However, our love for Spain is too big to just blindly cross the country. Besides that, Spain is huge and has so much to offer with many places we haven't visited yet.
Sevilla was the first main stop this month. We spent a few days exploring the capital of Andalusia which is famous for having one of Europe's largest historic city centers with many highlights. We visited among others Spain's largest bullfighting arena and the Real Alcazar. Especially this lather one surprised us. There was so much to see in this massive palace, Europe's oldest royal building still being used today, and its beautiful gardens. Both of us cannot remember ever spending such a long time in a cultural attraction before…
Sevilla was basically our warming up for visiting a series of Spain's largest cities as Valencia was next. We spent only one day in the orange city of Spain where we obviously had dinner with a huge plate of paella... The great and affordable camping area close to Valencia was a big relief compared to the shitty camp-spots near Sevilla and for all big cities in Spain, Valencia is maybe the easiest to visit by camper. Even though we had some pretty bike rides in this 'cycling walhalla' of Spain, we didn't stay long and kept the pace high to make it to the Alps before the last snow of the year was gone.
Along the East coast we had our final stop in Barcelona, to complete the list of large cities in Spain. After a day of strolling through the busy streets of Spain's busiest tourist hotspot and taking a look at the never finished Sagrada Familia, we ended the day in our favorite place of town: the aquarium store. While watching the most beautiful coral and fishes, we could make up our ranking for our favorite cities in Spain. And our winner is… Madrid! The combination of the to-do's, restaurants and campsite, make this the absolute winner for us.
France, why?
After Spain it was time to 'jump' to Switzerland. Sadly we came a little too short and had to drive the French highways for a few hundred kilometers. Well, the French toll gates made this our most expensive travel day so far… Yes we really don't understand why France did this to us. So we were very very happy when we saw the signs of the Swiss border along the road, our next destination for the coming weeks. Finally, time to take a breath and start the 'slow travel' again, because let's be honest, our old-timer isn't the best car for long distance driving like this.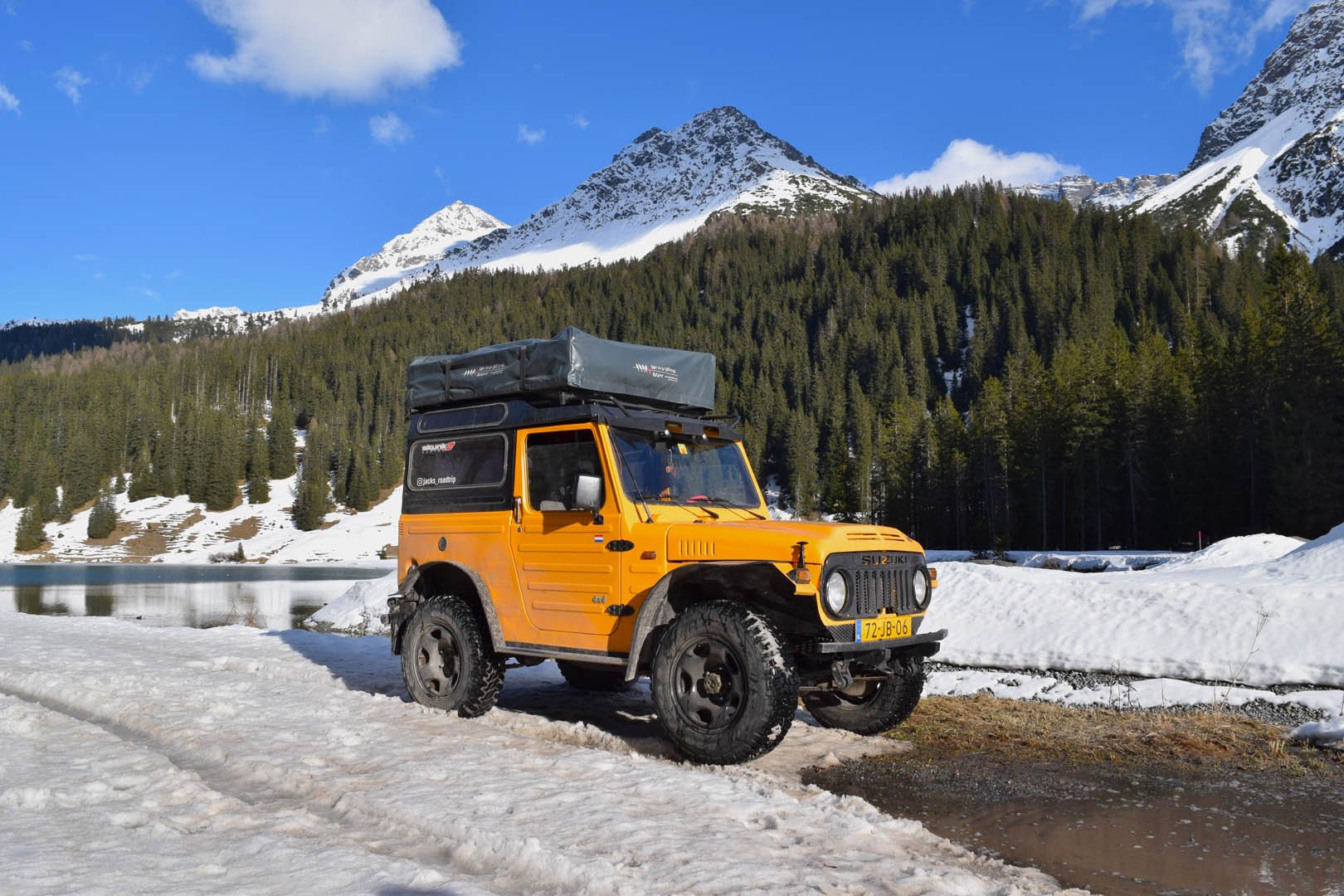 Cookies, cookies & cookies
The first stop in Switzerland was a good one. In the Kambly factory, located in Trubschachen, they produce over 30 different types of cookies and the best thing is that you can try them all! Eat as much cookies as you want to eventually buy a bag of your favorites. But be warned, don't load your cart too quickly, because it's not hard to leave the factory bankrupt... :)
Can we still call this winter sport?
After too many cookies, we continued our travel towards the east of Switzerland. The province of Graubunden will be our destination for the last part of March. It had been a winter with very little snow and there wasn't much left for us, but high on the mountain we could still do snowshoeing, nordic skiing and sledding. Besides that, the lack of snow made it possible to ride our mountainbikes through the mountains and go hiking to the lower peaks.
During this combination of winter and summer activities we also took a little break from our rooftop tent. It has been absolutely great for the last months, but getting up in a somewhat warm house is just a little bit more comfortable than climbing down the stairs of your rooftop tent when it's freezing outside. However, this doesn't mean that we haven't been testing out our tent in these winter conditions, because we took our little Suzuki from the garage a couple of times to experience a true white winter night. Due to the fact Morocco already offered us some freezing nights, we knew what to expect and it definitely didn't disappoint us. Yes, outside it is cold, but inside we survived well with our sleeping bags, even without using the Dare to be Different's EZI Thermo inner tent. We can comfortably conclude that you can definitely go winter-camping with your rooftop tent. Just make sure you have the right materials!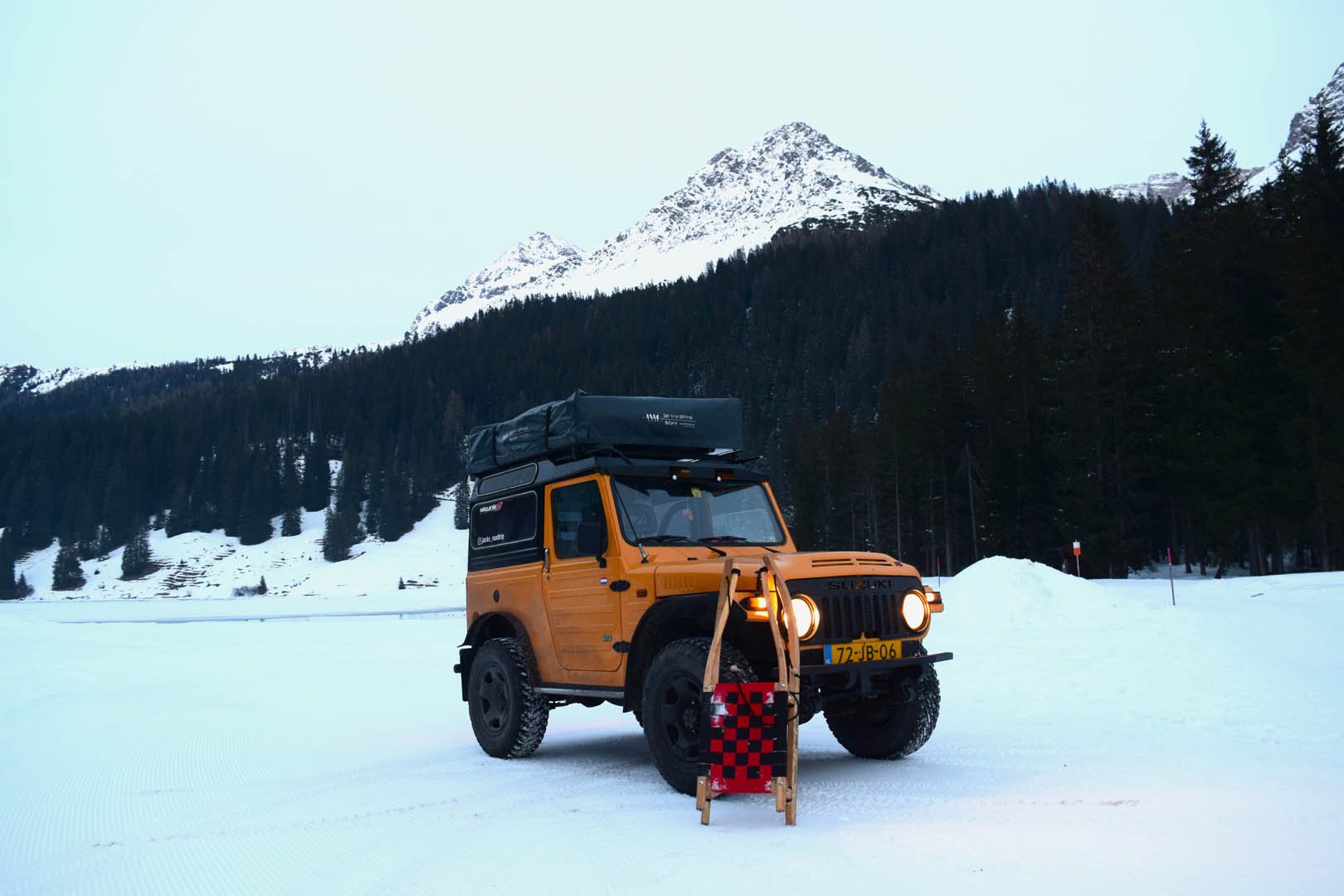 Italy here we come
Last month was great, but as we said in the intro, I wasn't as spectacular as the months before. It felt like a little break in our one year long journey and we are ready to continue. On the last day of March, we left lovely Switzerland and drove to Italy, which we will explore during our next month. We will drive south to eventually take the ferry towards Albania or Greece. This month it took us around two days to start missing the campinglife, so we are super excited to continue and fulltime live on top of the car again. See you next month, when we will definitely have some hidden gems to share with you again!