Our second blog already. Time flies when you are having fun and more than 60 days have passed since we left our cold little country. More than 60 days of discovering, exploring and making memories. More than 60 days of cruising bumpy gravel roads with our spartan yellow Suzuki and more than 60 days of receiving compliments about our goodlookin' yellow-brown combo. But also more than 60 comfortable nights in our Dare to be Different rooftop tent and more than 60 mornings of waking up in beautiful places.
Our previous month was full of big mountains. The Pyrenees, Picos and Gredos, we visited them all. This month, the peaks weren't as high as last, but the views from the top weren't less mesmerizing. Besides that, we also included some more 'culture' as we visited two major Spanish cities and dove a little deeper in Spanish history. It was still a completely Spanish month, because this country doesn't get boring. Its variety and density of beautiful hilly landscapes is massive and there is so much to explore.
Sierra, Sierra, Sierra and a lot of old stones
From Gredos we drove to Madrid to explore Spain's vibrant capital. This massive city full of people was a huge contrast to the weeks before, where we often felt alone in the world. Even though, Madrid was great! We didn't get bored for a second and we spent three days as ultimate tourists, strolling through narrow streets and eating tapas from dusk till dawn. The ultimate must-have tapa is the fried queso brie with red wine sauce from Taberna La Buha Chueca. Almost one month later, we can still dream about this delicious dish… During our stay in Madrid we camped on the campsite in the middle of the capital and we also received a guest from Holland. Due to our great Dare to be Different 140L extension, she could sleep below our rooftop tent. So besides being dry and comfortable in the cold, it can also function as an extra bedroom that easily fits two persons!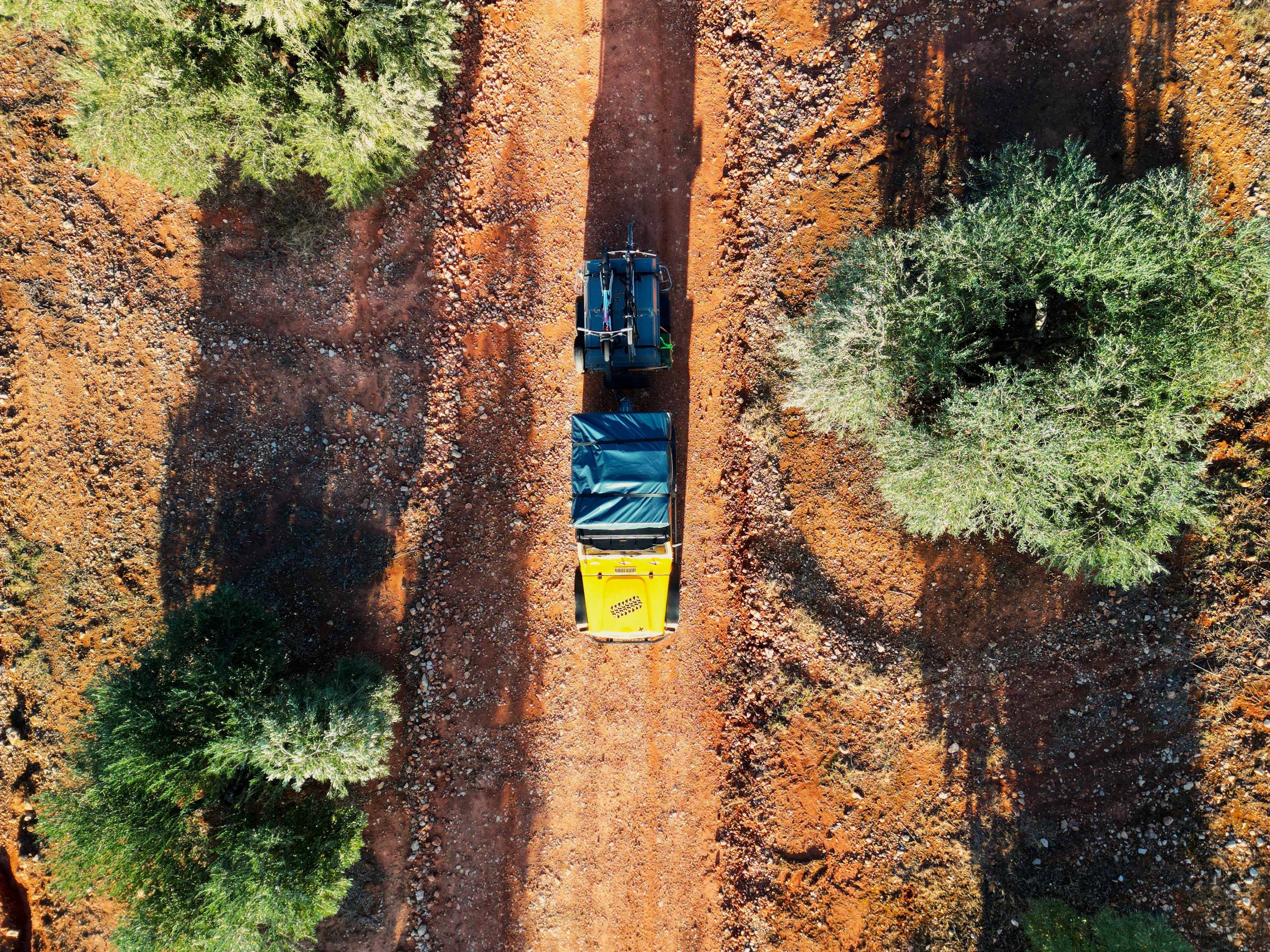 After Madrid we drove south to Sierra de Cazorla, Segura and Las Villas. These adjacent three national parks together form Spain's largest nature reserve. It is a mountainous and absolutely great region for hiking enthusiasts. The GR-247, a 21 stages and 478 kilometers long hiking trail is a true recommendation if you want to visit this undiscovered part of Spain and hike between the most beautiful rock formations. In the ten days we spent in this region, we did a few segments and none of them disappointed us. Furthermore, we learned more about the interesting Spanish history with the Almohads and the Christians battling for the beautiful castle of Segura de la Sierra and we visited the fifth holy christian city in the world, Caravaca de la Cruz.
Halfway through the month we entered Andalucia, the world's richest region in terms of olive trees. Ubeda and Baeza were our first stops in this large Spanish province. The 'church density' in these towns, which are surrounded by olive trees only, is higher than the population density in Sierra de Cazorla. After having seen enough 'stones', we started our search for the Iberian lynx in Sierra de Andújar, but then, after 50 days on the road, the impossible happened. A loud sound scared us and a few seconds later we were stuck on a small mountain road somewhere above Córdoba. We had a look below our car, but the sound was worse than the actual situation. The four screws from our drive shaft came completely loose. We didn't have the right screws to fix it, but luckily ANWB is always there for you. However, in Spain there is apparently no mechanic on the road, so the towing service was needed to bring Jack to the closest garage. Dusk was falling and with the Spanish working pace, some waiting can be expected. Miraculously it all went relatively quick and we were able to sleep in our trusty yellow car the same night and visit Córdoba the day after. This ancient Spanish city with endless narrow green streets has a lot to offer and was surprisingly charming.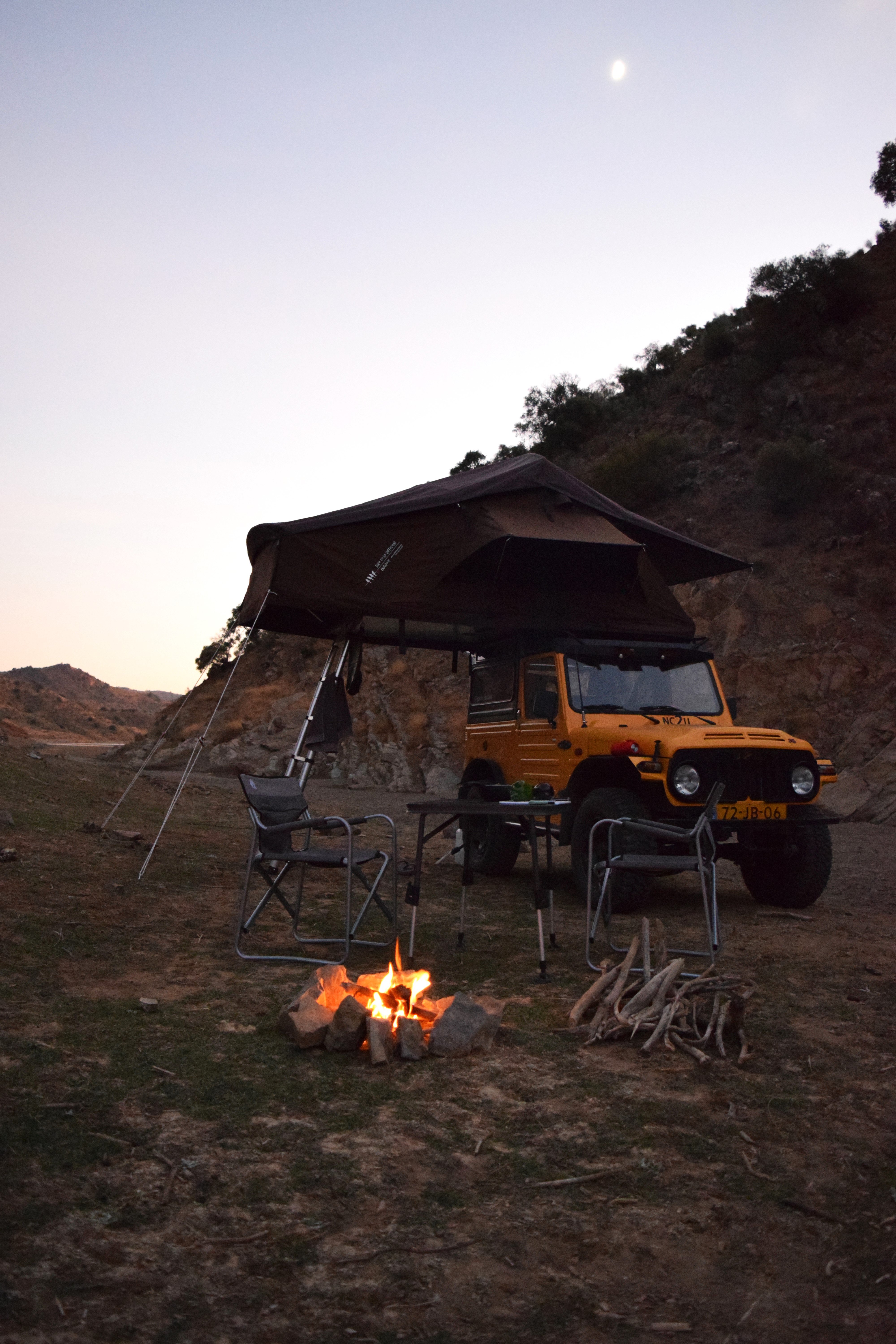 The natural park of Sierras Subbeticas was our next and last stop this month, back to nature after too much camping on concrete surfaces. We missed being away from people and the last week of our month was all about deserted mountains and beautiful hikes and bike rides. Camping on the bottom of empty lakes became one of our favorite things to do as your own echo is the only thing you hear. Imagine watching the World Cup football in such a breathtaking place... But this week also one of Spain's biggest issues became clear, stray dogs were all around and one of them even stole our hearts. With pain in our heart we had to leave her again.
Africa, here we come
It may be clear that our 'travel fever' hasn't been extinguished for a second over the past two months and we are excited to continue our journey. A special month ahead, because we will finally leave the European continent for the African. Time to test whether we can survive the Sahara's sandstorms in our rooftop tent. We expect to take the boat from Algeceris to Tanger in about two weeks from now on. The start of a new chapter in our trip, but more important: a Moroccan Christmas and New Year! :)