Morocco is a blast! From strolling through souks in crazy Marrakech, mountainbiking in the High Atlas, stone climbing in the Anti Atlas, to surfing on world's best waves along the west coast, we have done it all. The longer you are in the country, you start loving it more. Getting used to the people, their style of living and the daily flow takes some time, but makes you merge in with the country. After a while you also get used to the streetfood and once you have found your favorites, every day becomes even better. It is not the extraordinary natural beauty, but the entire combination of friendly people, mouthwatering streetfood and beautiful varying landscapes that makes us love Morocco!
Our favourite

street food

The new year started with a lot of Chebakkia. Chebakkia? Yes, a honey fried cookie with sesame seeds, our definitely number one snack in Morocco. After having tried one, you cannot stop eating anymore... It is usually eaten with Harira soup during Ramadan starting in March, but luckily some places offer it all year long. Especially in Morocco's most chaotic city Marrakech, where we spent the first days of 2023, you can find a thousand different flavors. Food stalls offer fresh juices, Moroccan pancakes, sandwiches, fried fish, a lot of sweet snacks and many more. Another of our favorites is M'semen, the Moroccan pancake. You can get it almost everywhere for only 3 dirhams (~30 cents) for breakfast, lunch or dinner with cheese, honey or chocolate. We have been strolling and snacking in Marrakech's endless souks, negotiating with Morocco's most aggressive sellers, for two days before we left the city to drive to the High Atlas, where our search for chebakkia and m'semen continued.
The Himalayas of Morocco
Ourika Valley was our first stop in the High Atlas mountains. The sharp pointed mountains and the azul blue creek flowing down, make this such a pretty place! The winding gravel roads with endless hairpin bends are the most beautiful roads we have biked in a long time. The views from above 3000 meters are breathtaking and we imagined ourselves in the high Himalayas. We visited Oukaïmeden, Africa's highest ski resort, but due to the lack of precipitation skiing was still impossible as all the clay brown slopes were still covered with goats and sheep.
Our next stop in the cold High Atlas was Imlil, a mountain village at the foot of Mount Toubkal, North Africa's highest mountain with 4167 meters high. Here we made some magnificent hikes, but due to the lack of snow here as well, we decided to come back another day to climb the Toubkal. The slopes were too icy and the day we arrived three Moroccan climbers lost their lives while climbing. After spending over a week on different places in the High Atlas, it was time to leave the freezing night temperatures. We drove a nail-biting mountain pass to end up in Morocco's most southern mountain range, the Anti Atlas.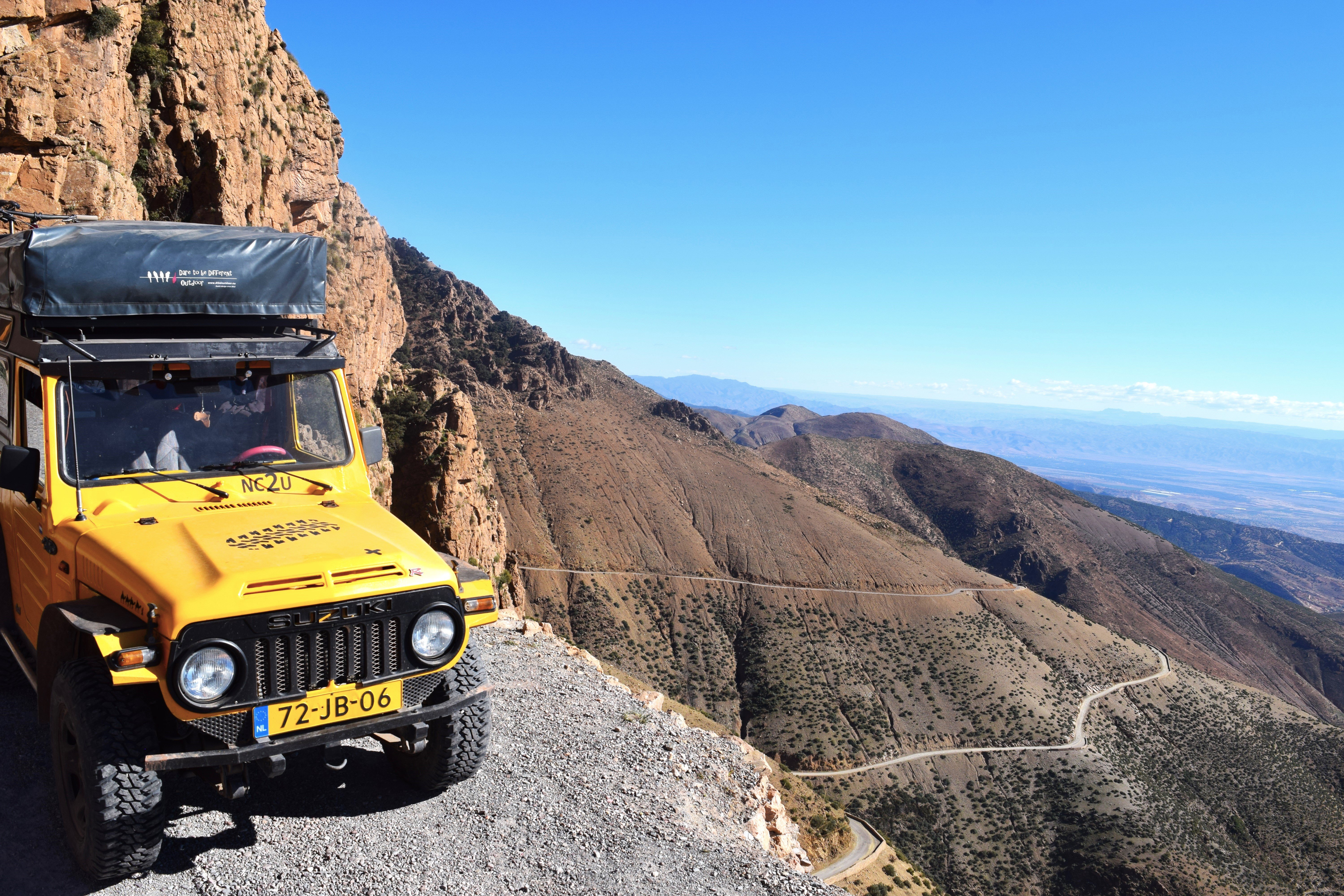 Anti Atlas
In the Anti Atlas we slept in the middle of a Jurrasic like landscape with gigantic rock formations of all shapes. The village of Tafraout is popular among campers and we definitely understand why, because we had such a good time here climbing the big stoney hills and biking through green gorges full of date palms. At the end of every day we stranded in the cozy small town to have some fried donuts from our favorite streetfood seller. But the beautiful natural landscape of Tafraout also has its downsides. A local told us that it has been almost three years since the last big rainshower and every day a water truck comes by to refill the water tanks. Water from the taps isn't a matter of course in this stoney desert.
In the Anti Atlas we saw the biggest and most expensive overlanding trucks, but none of them put Jack in the shadow. Our combination steals the show and many enthusiastic Moroccans and travelers came by to have a closer look at this little Suzuki with brown Dare to be Different bedroom. After almost a week of camping in Tafraout, it was time to pack our tent again and drive towards Morocco's famous coastline of almost 3000 kilometers long.
Catching waves
From the Anti Atlas we drove to Mirleft, the first of five beach towns we visited. This cozy yet undiscovered coastal destination is also the most southern point of our journey through Morocco. We catched the first waves of our four month long trip and learned the basics of surfing. But the main reason to go back to Mirleft is the best stone-oven baked Berberbread of Morocco. There doesn't exist a better lunch in between the surf sessions. After Mirleft we visited fishertown Tifnit and 'hyped' Paradise Valley near Taghazout before we stranded in surf paradise Imsouane. We improved our surf skills in this chill beachtown full of surfers, hippies and crazy Moroccans. The big tourism industry hasn't taken over this village yet and after long days of surfing we enjoyed a two course Moroccan dinner for only 20 dirhams. For those reasons Imsouane is definitely our favorite Moroccan beachtown.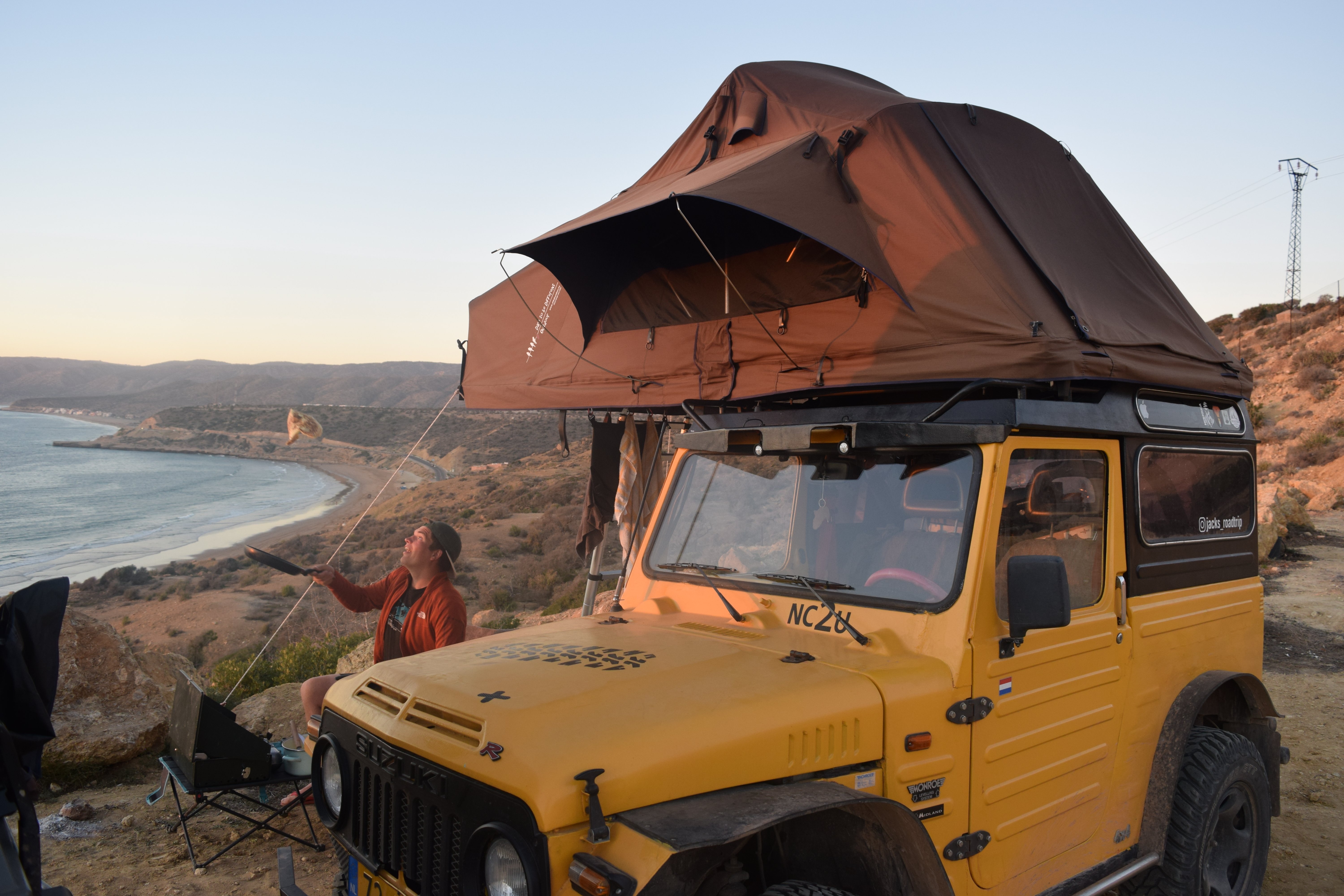 But at the coast we also started missing the more authentic Anti Atlas. The coast is dirtier, more tourism oriented and besides the sea, it lacks natural beauty. In general, prices for campsites near the coast are twice to double as high as in the inlands and facilities are often worse. Therefore we were very surprised when we found our final destination at Sidi Kaouki this month, Morocco's longest sandy beach. For only 30 dirhams it is our cheapest campsite with all facilities in Morocco so far and it was a perfect base to visit the city of Essaouira. We can best describe Essaouira as a cozy and small version of Marrakech, with little souks and a lot of streetfood. The port is the highlight of the city as you can eat the freshest fish you will ever have. Local fishing boats arrive with their fresh catch to directly sell this at the port's market. Here you pick the fish of your choice and 'rent' a grill to enjoy your favorite fish. But for dessert you should walk back to the old Medina, where you can get bags full of Chebakkia... ;
After two weeks of driving along the coast we are also excited to drive back inland and see some mountains again. But one final conclusion has to be drawn: is the Dare to be Different rooftop tent as good 'surfing-proof' as 'desert-proof'? Well it becomes predictable, but we can clearly say 'Yes!'. On the windiest spots we removed the fly top to reduce some noise and our nightrest was perfect for all fourteen days . So we can well-rested continue our route northwards to take the boat back to Europe at the end of February.