Rooftoptents are the ultimate companion for adventurers who love camping outdoors. They not only provide a comfortable sleeping space on top of your vehicle, but also the flexibility to enjoy nature wherever you want. But what about Extension? How does an Extension work? What length of extension do I need? How does the extension and extender work?
What is an extension?
An Extension, also known as an awning, is an extra tent that attaches under your rooftoptent. It acts as an additional space under the sleeping area of the roof tent. These Extensions are ideal for storing your luggage, creating a separate seating area, or even as extra sleeping space for guests.
Why use an Extension?
An extension under the rooftoptent can be useful in many ways; it provides more shelter and privacy. Below are some common examples of why you might need the Extension:
1. Extra storage space: An Extension provides additional storage space for your camping gear, giving you more room in the main sleeping area of your rooftoptent.

2. Separate seating space: If you want to relax without being disturbed by insects or weather conditions, an Extension can act as a separate seating area.

3. Guest quarters: Have friends or family visiting? An Extension can serve as a comfortable extra sleeping space.

4. Changing area: Need to quickly put on a pair of swimming trunks or change your own clothes? In an Extension this goes with ease.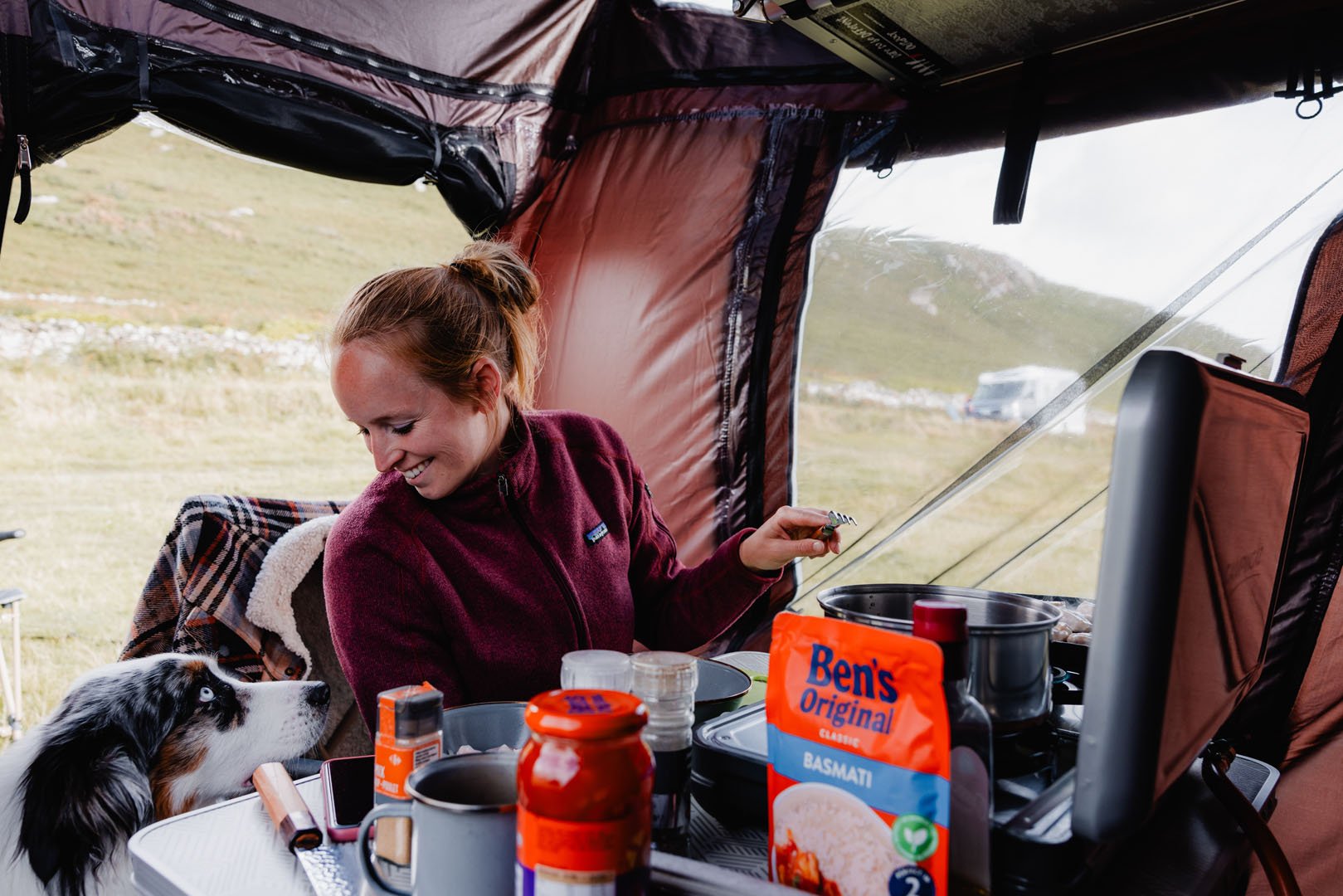 How to choose the right extension length?
When choosing the right extension length, the height of your vehicle in combination with the roof racks is an important aspect. We have two standard lengths on the market the 1.7m and the 2.0m. The 1.7m is actually suitable for almost any passenger vehicle. In fact, many station models can already use a 1.7m Extension. Is your car more of an SUV? Then you will need a 1.7m Extension with a 15cm extender. This can easily be zipped in between. Then the Extension will always fit and it is certainly not too long.

Is your car lower than 1.7m with roof racks? Even then you can put the Extension underneath from 1.60cm. If your car is even lower, use ramps.
Straps for height adjustment
If your extension seems too long compared to your roof tent, you can use the tensioning straps on the corners of the Extension. This allows you to adjust the excess height so that the Extension fits perfectly.

An Extension is a valuable addition to your rooftoptent equipment. It provides extra storage space, a separate seating area and can even serve as extra sleeping space. When choosing the right extension length, it is important to consider the height of the car and the roof racks, also remember that the rooftoptent has a rail of 3cm. So this one is always just a little bit higher.

At Dare to be Different Outdoor, we understand the needs of adventurous campers. Explore our rooftoptents and Extension and get ready for your next outdoor adventure!