Howdy readers, welcome to our next blog! October, November.. December... January.. February… Wait, we are already five months on the road?! At the beginning of our trip it felt like time was endless, but now it feels like the last five months went by in one finger snap. After a while you get used to the travelling and the way of living. Besides forgetting the day of the week, you also forget about the fact that it is such a luxury to be exploring this beautiful world. You forget that you are living your dream and sometimes you consciously have to realise this again. Last month flew by without noticing, so let's take a step back and re-experience the last four weeks together. I can already say that we set up our rooftop tent on some magnificent places...!
February 2023
We ended the month of January at the Moroccan coast, ready to go land inwards again. During the first three weeks of this month we explored many more Moroccan mountains before we crossed the border back to Spain. In between all the hiking and mountainbiking, we drove from natural wonder to natural wonder, made a friend for life and gave our yellow Suzuki Jack a special skin treatment. At the end of the month the weather decided to force us out of the country as the last days were full of rain. We crossed the border and spent our final nights of February in the Spanish enclave Ceuta, where a storm left us stuck before we could finally take the ferry back to Spain.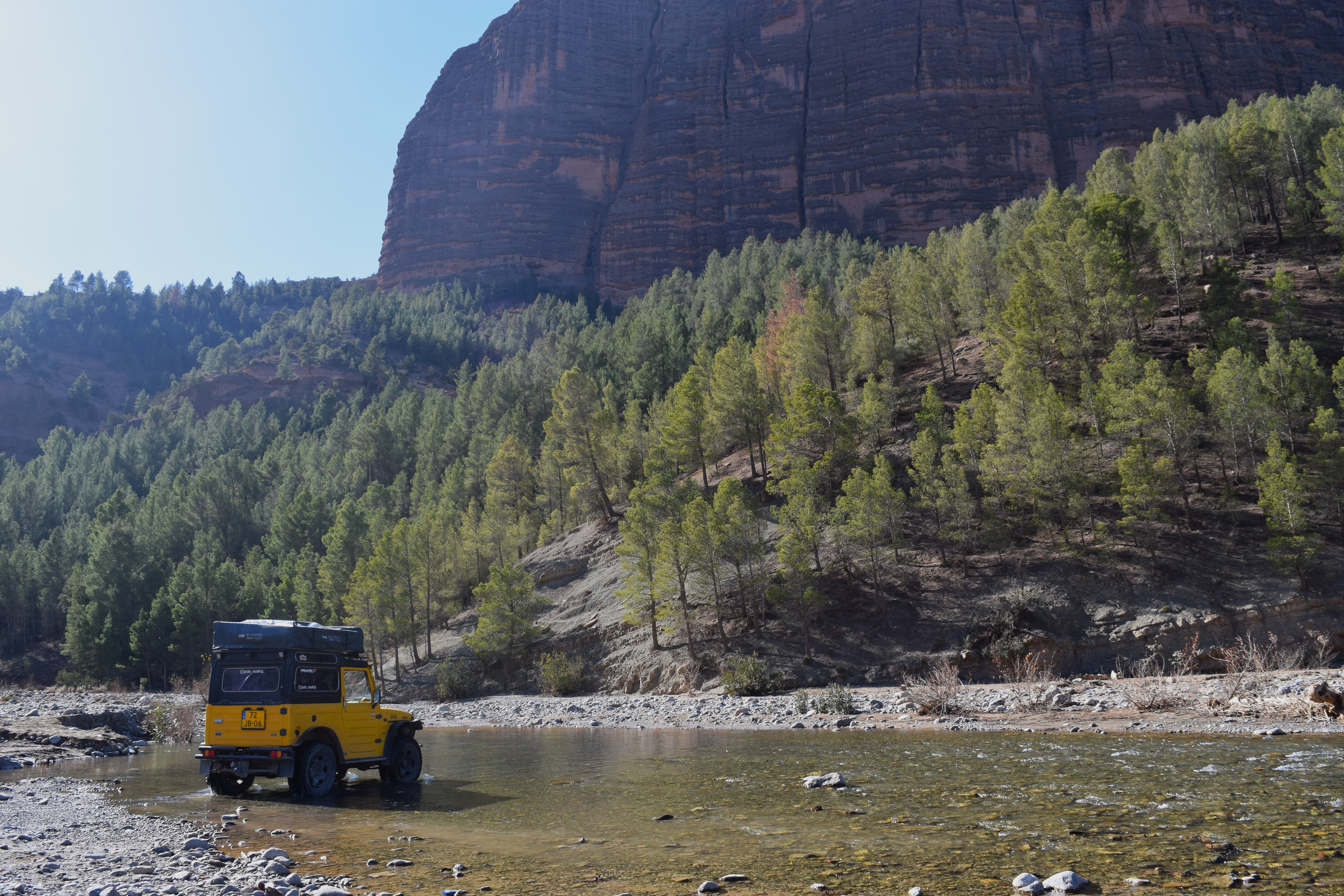 Natural wonders and a special friend
The first day of February we drove back to the High Atlas where Imi n'Ifri was our first stop. This natural wonder is something we had never seen before. An impressive 70 meters high cave formation was full of stalactites. You could climb through the cave on your own and take a dip in one of the natural pools created by a creek winding through. Back in the Atlas it was cold again and we were happy with our extra sleeping bags as temperatures dropped to around 0 degrees at night. Furthermore, we experienced our first snowfall in Morocco while riding our bikes deep in the Atlas through mountain villages far from the modernised world. Here, the children ran after us for kilometres before we said eachother goodbye.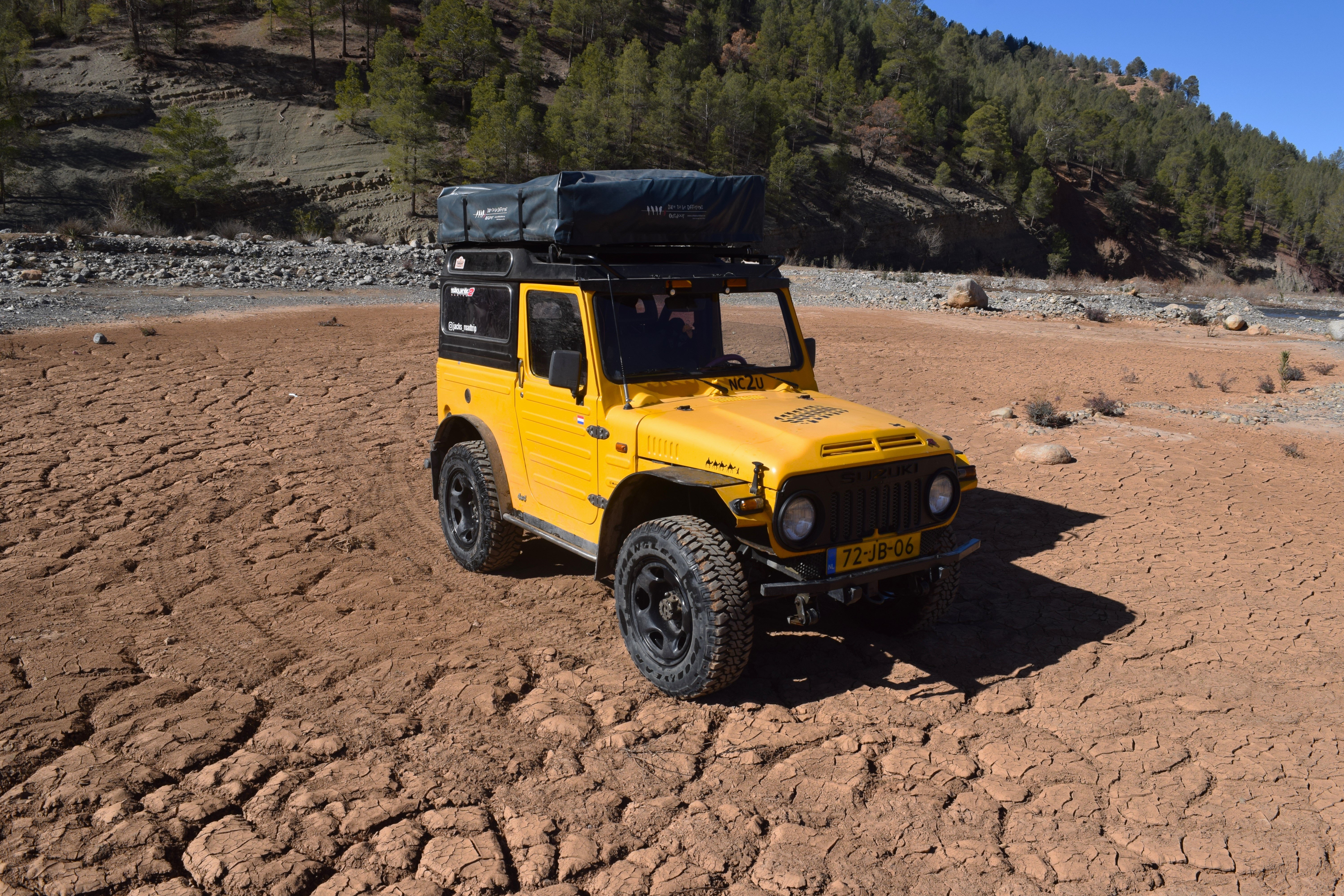 At our campspot in Imi n'Ifri we met a fellow traveller from Germany. You don't meet people with exactly the same interests and passion often, but if you do, you can have the greatest fun together. Even though our German friend was 47 years older, we could endlessly spar about travel plans, went hiking and drove to our new destination, the Ouzoud waterfalls, together. These waterfalls are Africa's second highest with 110 meters high. Even though the falls were beautiful, the place was milked by the locals so much that it lost its charm. We decided to drive further and said goodbye to our German friend.
For one final time we went deep into the High Atlas mountains, to 'Cathedrale Imsfrane'. It is a big statement, but we both agree on the fact that this was our most beautiful campspot in Morocco. Our Dare to be Different rooftop tent stood next to a blue creek with a view on one of Morocco's prettiest mountains, 'La Cathedrale'. Can you imagine such a place?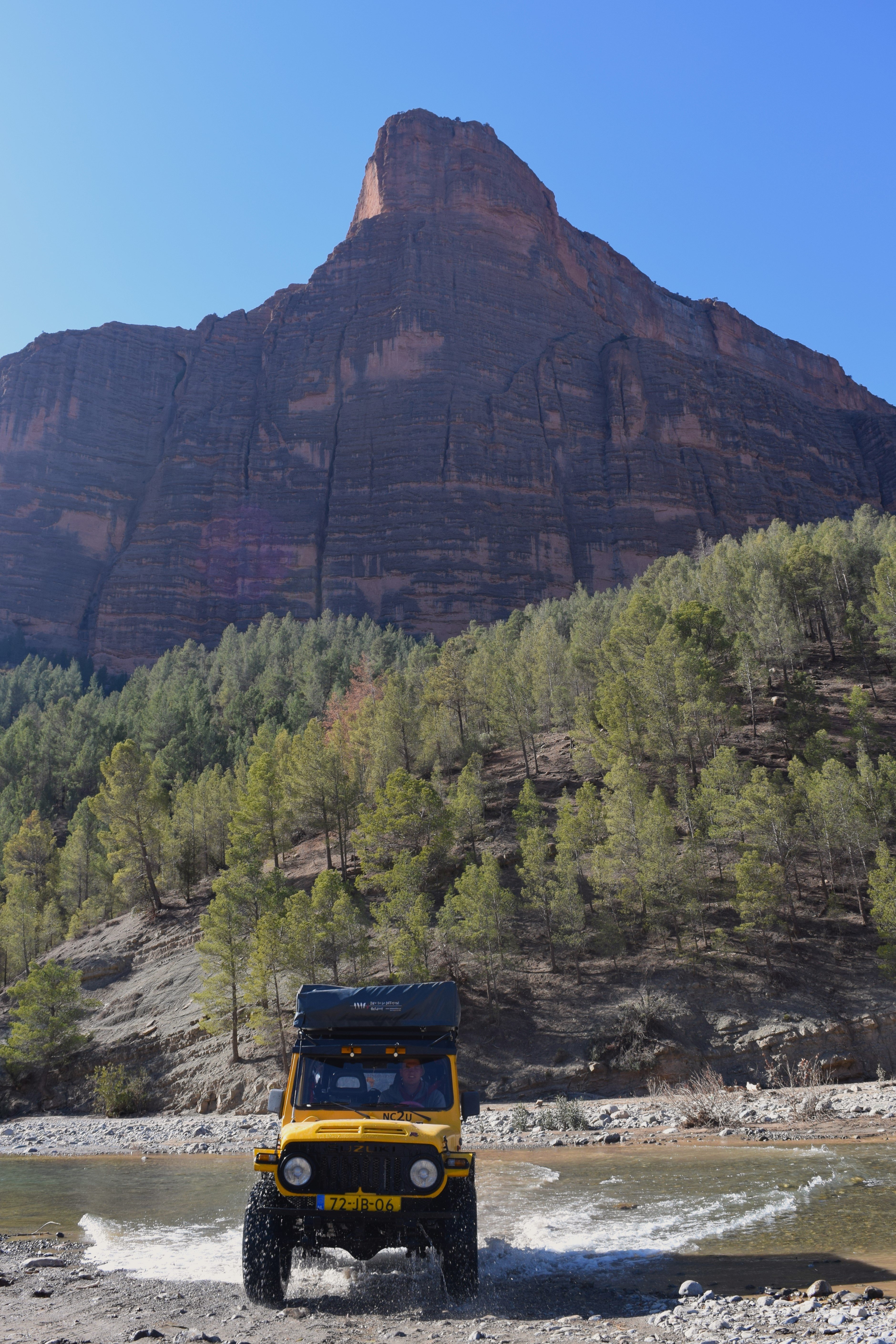 After getting up, we made a great hike to the top of the mountain and back through Gorges l'oued Ahansal where we took a dip in the ice cold water. Besides that, we also rode our bicycles and spotted a large troop of wild Barbary macaques, a species of monkey. All this together made this the most pure and spectacular spot in Morocco and the memories will stay with us for a lifetime. We could have stayed for months on this beautiful place if the nights weren't freezing cold, but every morning there was a thick layer of ice on the inner walls of our rooftop tent... Our sleeping bags aren't made for these harsh circumstances and after three days we decided to leave for warmer weather.
Our final destination in Morocco
From the High Atlas we drove to the Rif Mountains, the last Moroccan mountain range we had not discovered yet. On our way to the North, we drove past the undiscovered Middle Atlas, the UNESCO World Heritage site of Roman Volubilis and the royal city Meknes. None of them could beat our love for 'La Cathedrale' and soon we arrived in Chefchaouen, a famous town in the Rif Mountains.
In Chefchaouen we had one final important goal for Morocco: giving our Suzuki a proper new paintjob. Jack may look young, but at 44 years old, he is a little sensitive to rust. It was time to give him a thorough skin treatment and we ended up staying in a hotel for four days. After four nights of missing our comfy Dare to be Different mattress, our driving home was shining like new again. While staying in Chefchaouen we spent our time exploring Morocco's Winter Wonderland. High up in the mountains, the snow covered Chefchaouen's famous cannabis plantations and the trees changed into impressive ice sculptures. This winter wonderland was one of the prettiest we had ever seen.
After Chefchaouen we headed towards the Spanish border, but on our way we had one final hike to God's Bridge and the Akchour waterfall. Even though it was raining, there was no water in the second highest waterfall of the country, but the lush green mountains and the spectacular rock formation of God's bridge made this the perfect hike to finish our stay in Morocco. Before crossing the border we had one last souk visit in Tetouan to say goodbye to all the delicious streetfood and stock up Chebakia for Spain.
Stuck in a Spanish enclave 2.0
During our stay in the Rif Mountains, we started missing Europe's comfort for the first time since we took the ferry to the African continent. The large number of stray dogs, the plastic pollution and countless drug sellers ruined the charm of the Rif Mountains considerably and in combination with some consecutive rainy days, we didn't feel too bad about driving leaving Morocco. The border crossing to Ceuta went smoothly, but our will to take the boat back to Algeciras couldn't be answered. Due to a storm cancelling all the ferries, we ended up stuck in this Spanish enclave for an extra day. Even though Ceuta feels like a large prison on the African continent, we had actually quite a good time and we prefer this enclave above its brother Melilla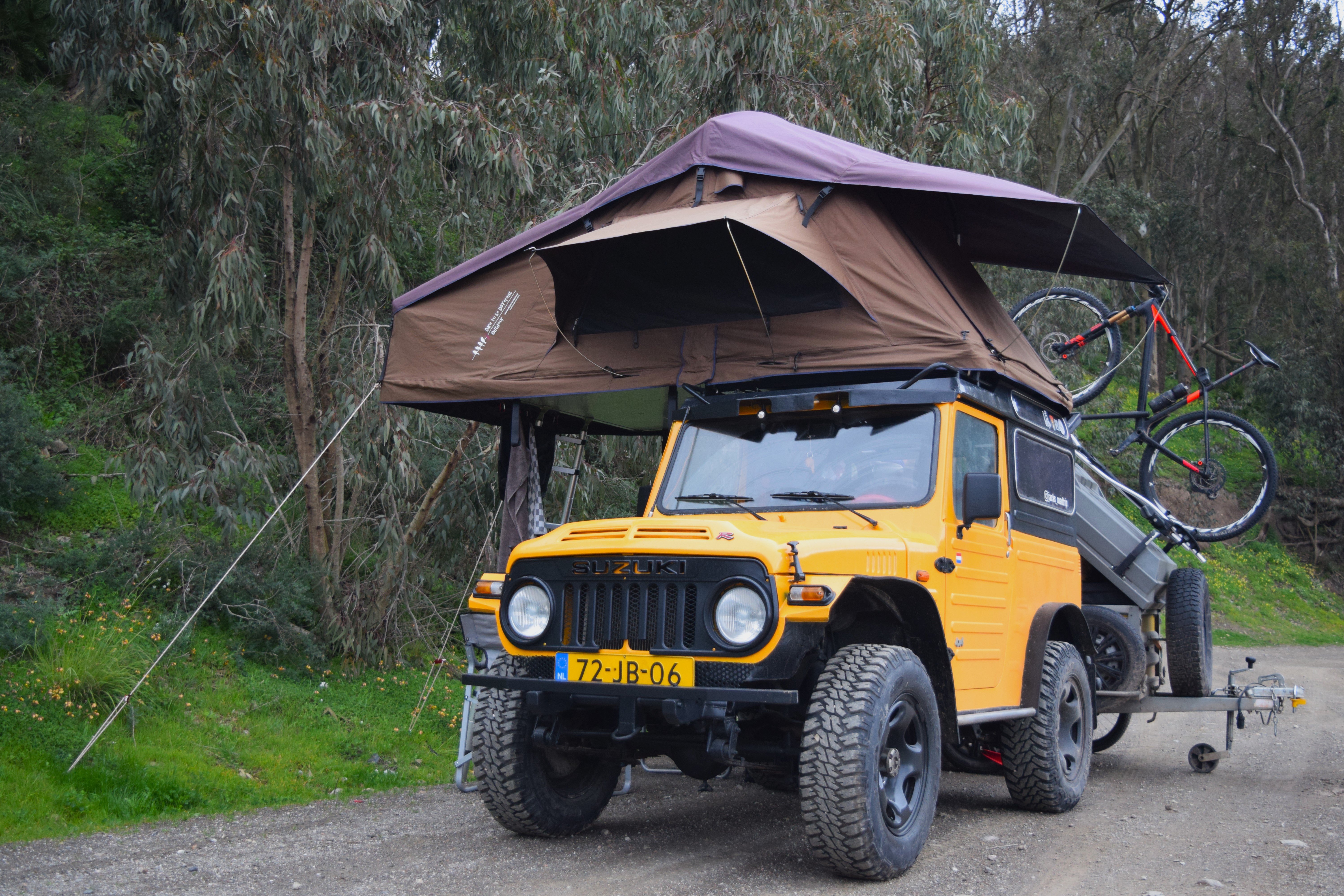 Well, while looking back it was again a beautiful month full of valuable experiences. We hope that you enjoyed reading through and would be happy to see you back next month in which we will probably cross Spain and France to end up in Switzerland for some more snow-fun with our yellow Suzuki and rooftop tent... Cheers!