The ultimate guide to rooftop tents: Comfortable camping above the ground
The call of adventure and the open road beckon – what could be better than the freedom of travel combined with the comforts of home? Roof tents are the latest trend in the world of camping and outdoor sports, allowing adventurers worldwide to sleep literally above the ground. In this comprehensive guide, we will take you through everything you need to know about roof tents, including why you should consider getting one, what type of roof tent is best for you, and how to determine if a roof tent fits your vehicle.
Why buy a rooftop tent?
Rooftop tents offer an innovative way to camp, blending the comfort of a traditional tent with the convenience and mobility of a vehicle. Here are some reasons why you should consider getting a rooftop tent:
Quick Setup and Teardown: Rooftop tents can be set up and taken down within minutes, giving you more time to enjoy your camping experience and less time spent on assembling a traditional tent.

Comfortable sleep: Designed with comfort in mind, roof tents provide a sturdy mattress and protection from moisture and uneven terrain, resulting in a good night's sleep.

Mobility: With a rooftop tent, you're not tied to a single camping location. You can easily travel from one place to another without worrying about finding a flat campsite.

Breathtaking views: Sleeping at an elevated height often offers stunning panoramic views, allowing you to appreciate the natural beauty surrounding you even more.
What Type of Roof Tent Should You Buy?
Several types of rooftop tents are available, each with their own features and benefits. Here are some popular options:
Hard shell rooftop tents: These rooftop tents have a sturdy exterior resembling a rooftop suitcase. They are durable, easy to set up, and offer excellent insulation.

Soft shell rooftop tents: These rooftop tents have a flexible fabric exterior and are often lighter and more compact than hard shell rooftop tents. They are ideal for adventurers seeking a lightweight option.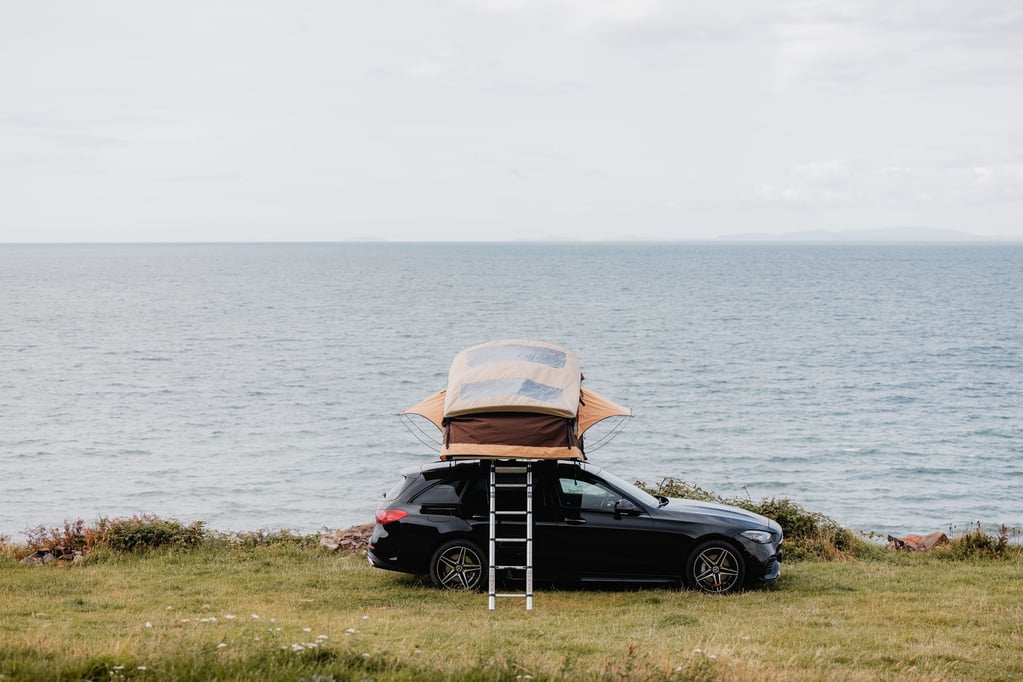 Choosing the best rooftop tent
The "best" roof tent depends on your individual needs and preferences. When choosing a rooftop tent, consider the following:
Size and capacity: How many people will sleep in the rooftop tent? Choose a size that accommodates your travel group.

Material and durability: Pay attention to the tent's material and the quality of zippers and stitching. Durable materials ensure a longer lifespan.

Weather resistance: Verify if the rooftop tent can withstand various weather conditions such as rain, wind, and sun.

Ease of setup: Some rooftop tents are easier to set up than others. Look at the setup system and practice assembling it before your trip.

Rooftop tent compatibility with your vehicle
Before purchasing a roof tent, it's essential to ensure compatibility with your vehicle. Here are steps to ensure the rooftop tent fits properly:
Roof load capacity: Check your vehicle's maximum roof load capacity to ensure it can support the weight of the roof tent and campers.

Roof rack or rails: Do you need a roof rack or roof rails to mount the roof tent? Ensure your vehicle is suitable for these mounting options.

Vehicle dimensions: Measure your vehicle's roof to determine the size of roof tent that fits without obstructing visibility or aerodynamics.

Installation and mounting: Make sure you understand how the roof tent mounts on your vehicle. Follow the manufacturer's instructions precisely.
With this guide in hand, you're well on your way to choosing and using the perfect roofrop tent for your adventurous travels. Whether you're exploring mountains, cruising along the coast, or simply discovering new places, a rooftop tent offers the ultimate blend of comfort and freedom for an unforgettable camping experience. So pack your gear, set up your rooftop tent, and enjoy falling asleep under the stars, high above the ground. Adventure awaits!