The chuckboxes from Dare To Be Different are the answer to the frequently asked question: "Where do I cook when I am travelling with my roof tent?" A chuckbox is the perfect addition to your roof tent and an ideal travel companion during a picnic, on the boat or in the car.
Good food comes with a good adventure. With a chuckbox from Dare To Be Different you can create the ideal outdoor kitchen for four people in no time. From cutlery to frying pan and from spice jars to gas burner, everything you need is in the chuckbox. Are you still missing something? There is room to add small things in the chuckbox.
The chuckbox small, in contrast to the large, has two burners that are fixated in the chuckbox. So you can not use them separately from the chuckbox. Advantage is that they are stable, especially with a somewhat heavier pan. The spacious worktop has a height of up to 60cm. If you prefer larger pans or an integrated table with a height of 68cm like the normal camping tables, choose the Dare To Be Different large chuckbox.
With a compact size of 44cm x 30cm x 33cm (lxwxh), this is a compact chuckbox. With a handle on the top and the weight of only 12 kg, the chuckbox can be carried perfectly.
Ordering?
All our dealers can deliver this kitchen. However, not all dealers can show him, but they all can deliver him within 5 business days.
Contains
2 Burners
1 windscreen
2 pans (19.3cm and 15.2cm)
Frying pan 19,7cm
Kettle 800 ml
Kitchen knife
Fruit knife
Pealer
Cutting board
Meat clamp
Wooden spade
Seasoning pots liquid 2
Seasoning pots powder 2
Multifunctional scissor
4 plates
4 cups
4 sets Silverware
Storage container
Workspace
Specifications
Dimensions closed:

44cm x 30cm x 33cm (lxwxh);
Dimensions opened:

100cm x 60cm x 60cm (lxwxh);
Material:

Stainless steel;
Weight:

12kg;
Warranty:

2

jaar.
Warranty and registration
Standard you get 2 years warranty when buying the Checkbox s, by registering your product here you get 1 year extra. So register your Checkbox and get 1 year more warranty!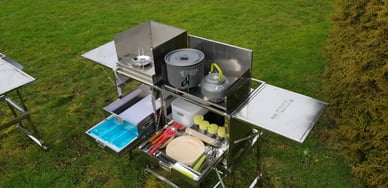 Kookkist XL
The chuckbox S is stored in the chuckbox XL and can be used as usual, but the lid must be removed.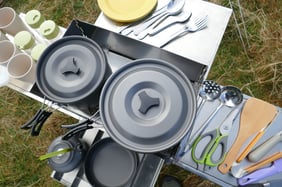 1 persoons uitbreidingsset
If there are more than 4 of you, you can also order a 1-person expansion set.