Penta Awning 270
A nice spacious place next to your car
The Penta Awning 270 is easy to set up and gives a wonderfully pleasant awning next to your vehicle. The awning is simply mount on your roof rack. The awning is located in a cassette the cassette is provided with a cover with a zipper. To use the awning unzip it open the cover and fold the awning from the hinge point. The four telescopic poles support the awning.
The Penta Awning 270 can be delivered with the turning point right or left. So the Penta Awning 270 can be mounted at each side of the car.
New:
The Penta Awning 270 is completely refreshed the design generates now even more shade besides the car. See Picture.
The Penta Awning will be delivered standard with one big front wall of 2,5m.
Besides these walls there can be extra walls bought 2,15m wide. The walls of 2,15m wide can be used in all sections of 2,15m wide. Different combination can be made with these walls. The walls can also be combined and so the awning can be closed completely to generate a big closed living space.
The walls 2,15m and the 2,5m walls are equipped with windows of PVC, mesh doors and blinding folds.
Specs
New Model Penta 270 in Zand or in Grey driverside or passenger side (incl. 2,5m Frontwall): € 995.00;
Penta side wall 2,15m:

€ 180.00;
Body: 300G Canvas (Cotton 35%/Polyester 65%) with PU coating ,Water-proof 2500mm, Rip-stop, UV-resistant
Transport cover: grey PVC 1200D-680Gr seams are high frequency welded.
Color: Grey or Sand
Unfolding Size: see picture
Folded Size: 255x15x15cm
Weight: 10kg
Warranty and registration
Standard you get 2 years warranty when buying the Penta Awning 270, by registering your product here you get 1 year extra. So register your awning and get 1 year more warranty on your Penta awning 270!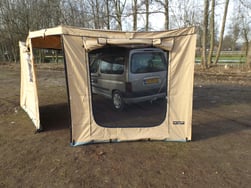 Penta sidewall 2.15M
With these walls the Penta 270 or the 180 awning can be further closed to create a complete awning. All 2.15m walls are equipped with PVC windows and mosquito netting.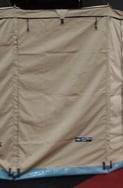 Penta side wall 1.15M
With this extra wall the Penta 180 awning can be further closed to create a complete awning. This 1.15m wall has no windows.