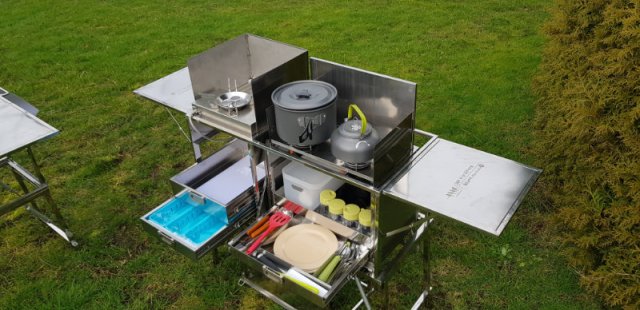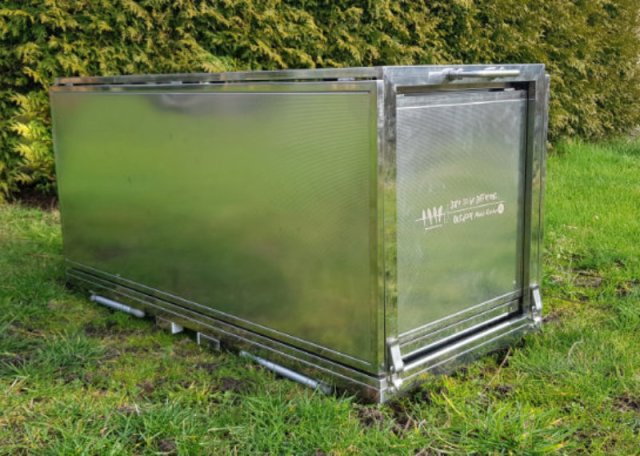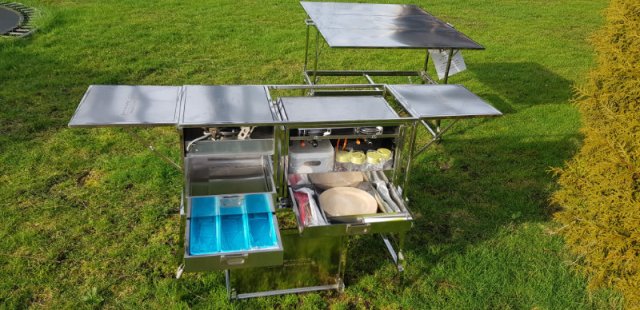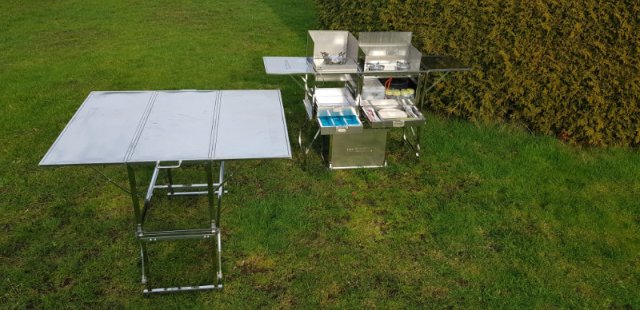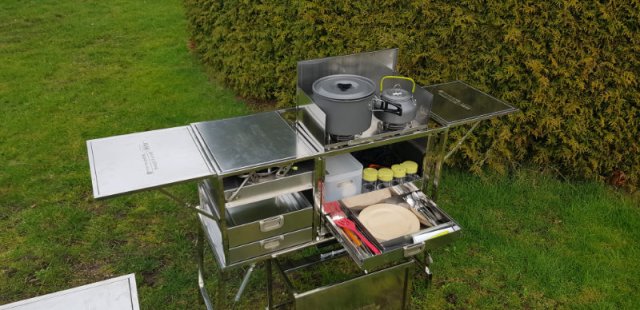 Chuckbox XL
Short description: Welcome to your new outdoor kitchen! Because the chuckbox XL is no less than your normal kitchen. Thanks to the 2 large burners and the large wok burner, you really can prepare any meal. Many master chefs envy it. The XL allows you to cook standing up and eliminates the need to bring along an awkward camping table. The XL chuckbox comes with a stainless steel camping table that serves as a storage box for the whole thing.
The materials used in our chuckboxes meet all requirements set by the Dutch Food and Consumer Product Safety Authority.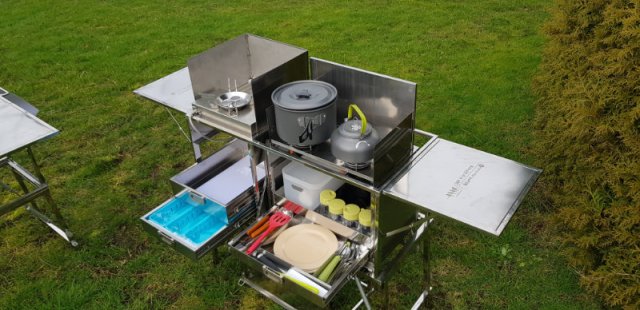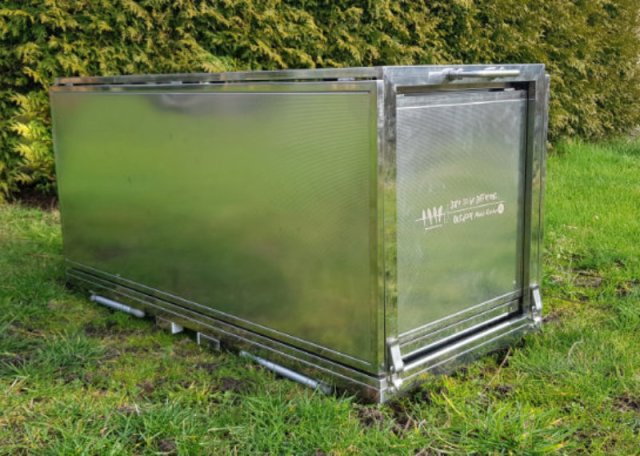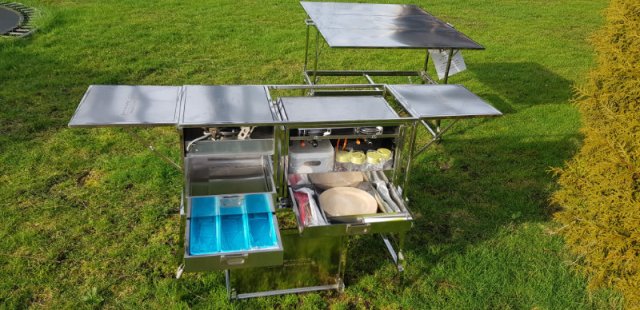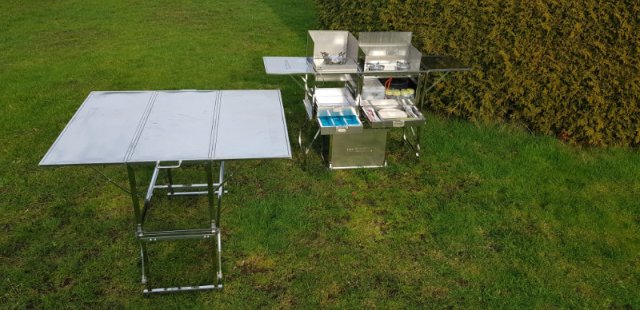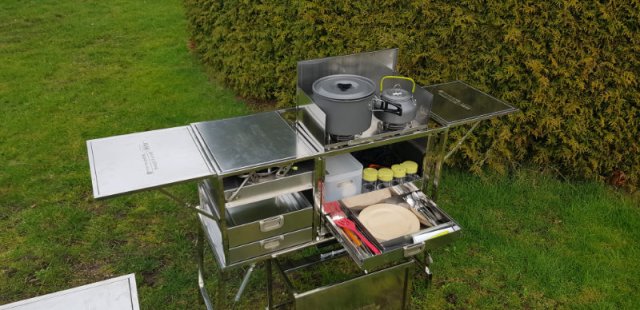 Specificaties
Dimensions closed
84x37x41,5 cm
Kitchen dimensions
137x34x75 cm
Table dimensions
103x81,5x75 cm
Warranty
Standard 2-year warranty, with registration 3 years
Certification
The materials used in our chuckboxes meet all requirements set by the Dutch Food and Consumer Product Safety Authority.
More information
No more clunky camping tables
Taking a camping table with you in the car can quite often cause problems. The table top is too long or just too wide. A folding table is either not stable enough or too thick. We have solved that problem with the Chuckbox XL, because this camping kitchen comes in a storage box that folds out into a stainless steel camping table. It measures 103 x 81.5 x 75 cm. So you can easily seat five people here.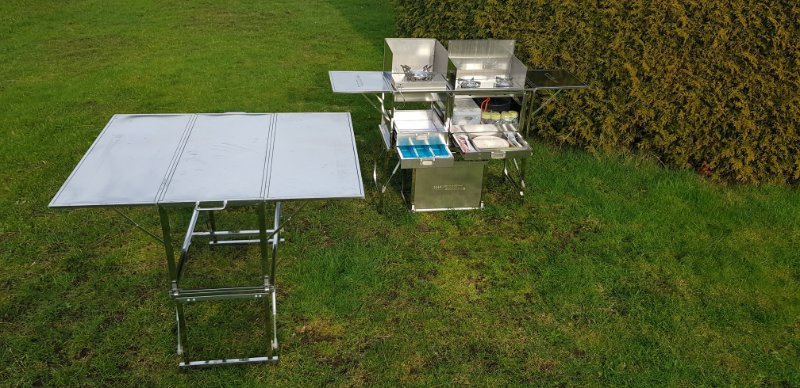 A master chef envies it
The Chuckbox XL is a real attention-getter at any campsite. It is like a magic box from which you can conjure up a whole kitchen and table. And then you can prepare the most delicious meals.
Fits in any car
The name sounds big and so is the kitchen, but folded down it is small in size. Just 84 x 37 x 41.5 cm. So it always fits in any car, and believe it or not, we even get the Chuckbox XL and all our camping equipment into a small Peugeot 206!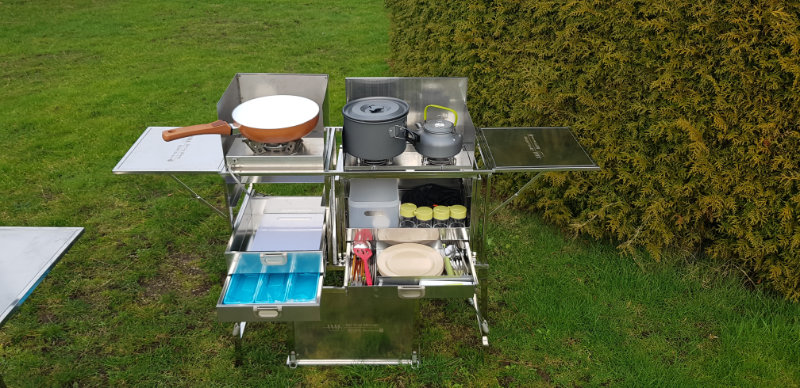 Total luxury
With the chuckbox M, you can create the ideal outdoor kitchen in no time. From cutlery to frying pan and spice jars to gas burner. You name it, it's already there. Still missing something? There is plenty of room to add to the chuckbox as you wish.
Standard 2-year warranty
The Chuckbox XL comes with a two-year warranty as standard, by registering the Chuckbox here you get an additional one year. So you can definitely explore the outdoors without worries.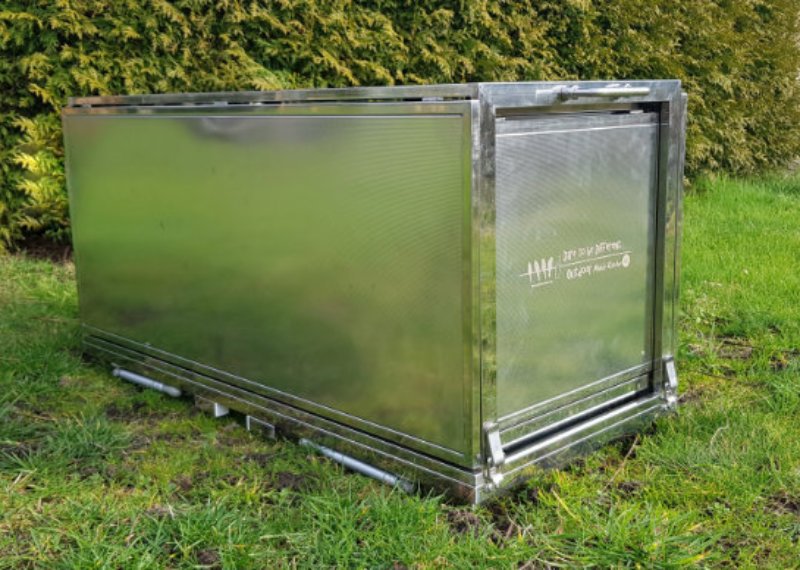 Your equipment deserves to last for years
Your gear creates memories that will last a lifetime. When you look at them or mount them, it evokes memories of magical moments and outdoor adventures. That is why we believe they are worth maintaining and repairing properly.
Using the chuckbox
It is important that when using the chuckbox, all folding parts, are unfolded. Never use the burners when the sides and back are closed.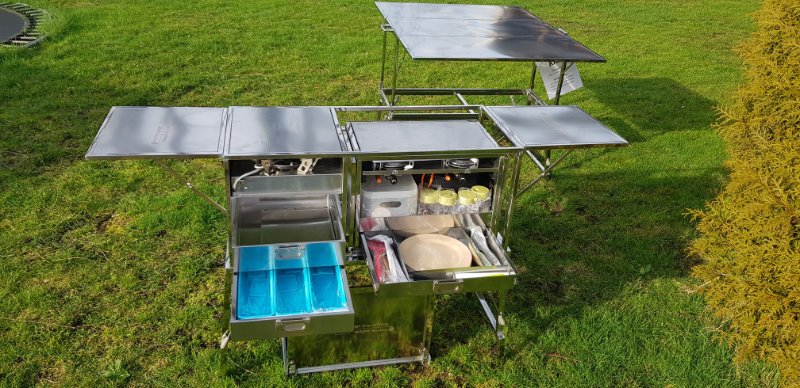 Reviews
So compact and so complete!!!
5 years ago we started with a rooftop tent and a chuckbox S. Now we bought a folding trailer. But the kitchens they could supply with it were big heavy and incomplete.
I knew that DTBD's chuckbox was expandable. So decided to expand the S chuckbox with the XL version.

Now I have everything in one, a table, a kitchen with everything already included and also extra storage space. I can now cook well standing up as I do at home. On the campsite !!!!

And on top of that I can still use the S chuckbox separately.

One negative thing the whole set is heavy. But that makes it stable.
What's in the chuckbox?
The chuckbox XL is a fully equipped camping kitchen suitable for up to 4 people! All this comes with it:
Foldable sink
2 x 3.5kW burners
1 x 7Kw wok burner
Storage drawers
2 windshields
2 pans (19.3cm and 15.2cm)
Frying pan 19.7cm
Water kettle 750ml
Multifunctional scissors
Thin peeler
Cutting board
Meat tongs
Plastic spatula
Plastic spoon
Salt and pepper shaker
4 dinner plates
Kitchen knife
Fruit knife
4 cups
4 sets of cutlery
Storage box
Camping table